Global Cleanroom Consumables Market
25

Cleanroom Consumables Market - Market Growth, Future Prospects, Competitive Analysis and Pipeline Analysis, 2017 - 2025, the global cleanroom consumables market was valued at US$ 1,787.5Mn in 2016, and is expected to reach US$ 2,755Mn by 2025 expanding at a CAGR of 4.8%from 2017 to 2025.
Market Insights
The cleanroom consumables helps in the prevention of contamination, maintaining the quality of product, and limiting human exposure. Compulsory regulations have been made by regulatory authorities for the production and packaging of medical and nutraceutical products worldwide. The restraint of the cleanroom consumable market includes increasing raw materials and manufacturing cost.
In 2016, the gloves are leading the product type segment due to factors such as its diverse application in hospitals, research and biopharmaceutical industry, they are widely used because they provide good elasticity and comfort. It has few restraints such as latex allergy which includes symptoms such as hives, itching, stuffy or runny nose.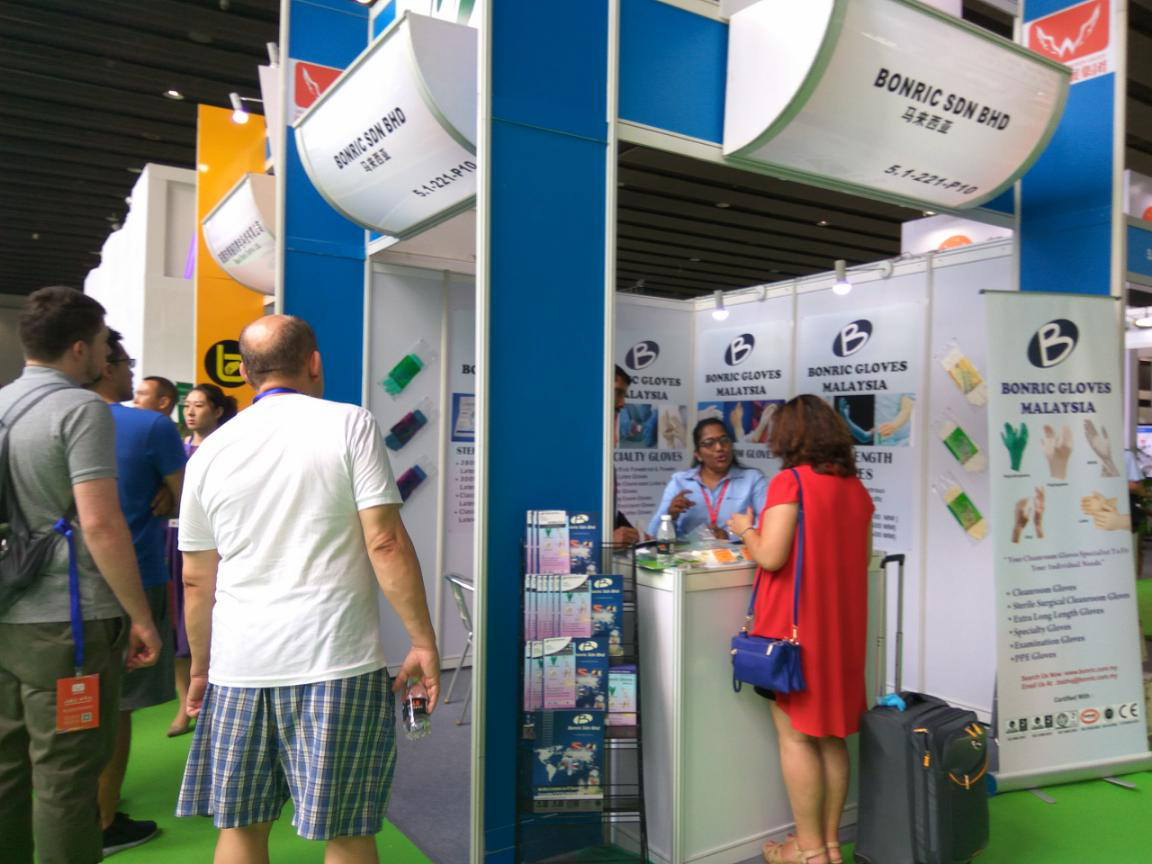 Photo: Bonric Gloves Malaysia in Cleanroom Guangzhou Exhibition 2017.
Cleanroom apparels will be the fastest growing market of the product type segment throughout the forecast period 2017-2025, majorly due to factors such as increasing demand in nanotechnology industry, as they prevent contaminants from hampering the quality of the product, and also finds application in other industries such as defense and food and beverages.
Pharmaceutical and biotechnology industry helds the largest market in the application segment for the base year 2016, as it minimizes human contact and eradicates microbial contamination, the cleanroom consumables are resistant to chemicals, and produce less particulate material.
Hospitals will be the fastest growing market in the application segment throughout the forecast period 2017-2025, chiefly due to factors such as rising number of surgeries performed, increasing number of clinics and hospitals leading to more biopsy performed, and protects the healthcare professionals from getting exposed to life-threatening pathogens.
The cleanroom consumables market is technologically driven and includes major players such as Kimberly Clark Corporation, Texwipes, Nitritex Ltd., Valuetek, and DuPontetc. in cleanroom consumables market and compete to augment their foothold in the market.
Tap into Chinese cleanroom market, please choose Asia-Pacific Cleanroom Technology & Equipment Exhibition (Cleanroom Guangzhou Exhibition) during August 16 -18 in Canton Fair Complex.
Disposal products' Exhibitors Recommend:
Meditech Technology Co., Ltd., Booth No. 119, cleanroom swabs
Suzhou JinTai Antistatic Products Co.,Ltd., Booth No. 120, non-dust cloth,
ZJY, Booth No. 352, cleanroom glove,
shengFeng Technology Co.,Ltd./SUOREC, Booth No. 410, non-dust cloth, swab
Shenzhen Hoyato Protective Supplies Co.,Ltd., Booth No. 409, clean shoes
If interesting, welcome to pre- register on site www.clcte.com soon.